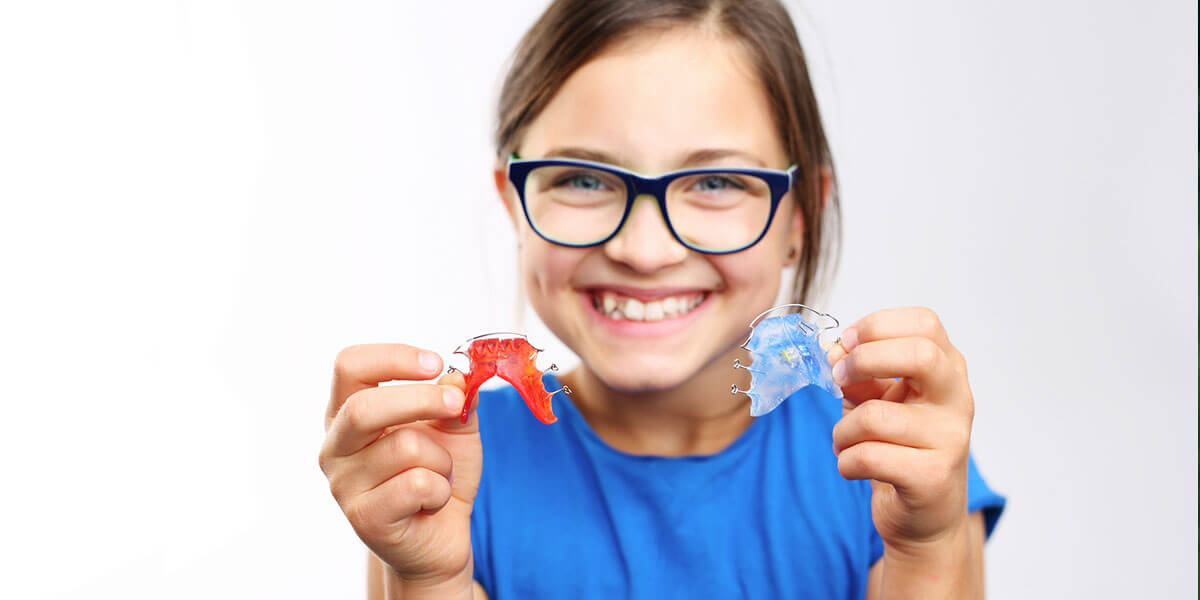 ---
Embrace Orthodontics provides orthodontic retainers in Westport, CT and Stamford, CT. Call us today to learn more and schedule your appointment.
Your orthodontic treatment isn't complete when you finish with your braces or aligners! Instead, you're ready to move onto the next step of the process: maintaining your results. We'll provide you with retainers to keep your teeth from shifting back and to make minor adjustments to your smile, if needed.
---
Fixed vs. Removable Retainers
---
Retainers can be either fixed or removable. Fixed retainers (also known as bonded retainers) are small wires cemented to the backs of your teeth to hold them in place. These retainers do a great job when it comes to maintaining your smile because they are permanent and can't be removed. Brushing and flossing can be difficult with this type of retainer, though, which is a disadvantage to consider. Cleaning between teeth using a floss threader is a must, as is careful brushing to remove the plaque and tartar that collects around the wire.
If you prefer a removable option, you have a choice between Hawley retainers and Essix retainers. Hawley retainers are made with a plastic or acrylic base and a metal wire that holds the teeth in place. Essix retainers are similar to clear aligners in that they are constructed of a plastic material that is molded to your teeth, making them comfortable and discreet. Removable retainers make dental hygiene easier, but they must be worn consistently in order to maintain your results. These retainers must also be cleaned on a regular basis, as they can harbor bacteria that causes odor and tooth decay.
---
Choosing the Right Retainer for You
---
We work closely with our patients to determine which type of retainer is best for them based on their orthodontic needs and lifestyle. A fixed wire retainer may be the ideal solution if you're worried about remembering to wear your retainer every night. A removable retainer, on the other hand, may be a better option if you don't want to deal with a floss threader every day.
It is important that you follow the instructions we give you when getting your retainer, regardless of the type of retainer you have. Your teeth are likely to shift if you do not use your retainer as recommended, and you may need orthodontic treatment again in the future. Patients who use their retainers as directed avoid orthodontic relapse and have beautiful smiles for the rest of their lives.
---
Frequently Asked Questions About Retainers
---
How long do you have to wear retainers?
---
A fixed retainer is meant to stay attached to your teeth permanently. We usually recommend wearing removable retainers overnight for at least two years. You might be able to reduce the number of nights you wear it each week after two years. We'll give you instructions when you come in to pick up your retainer.
---
What happens if you don't wear your retainer?
---
If you don't use your retainer, your periodontal ligaments will begin to pull your teeth back into their previous positions, causing orthodontic relapse. Many patients who do not use their retainers need orthodontic treatment again in the future.
---
Do retainers hurt?
---
It's normal for a new retainer to feel tight at first, but it shouldn't be painful. If putting in your retainer hurts, it likely means that you haven't worn it enough and your teeth are moving back to their previous positions.
---
Do retainers have BPA?
---
Our retainers are BPA-free, safe, and non-toxic.
---
Can you eat with retainers?
---
Because a bonded retainer is permanent, you will have to eat while it is in your mouth. Essix and Hawley retainers should always be removed before you eat or drink anything other than water.
Call us today to schedule your appointment.
---